Browse Symbol Stacks: CL: oftwominds-Charles Hugh Smith: Will the Fed Intervene in the Oil Market?
oftwominds-Charles Hugh Smith: Will the Fed Intervene in the Oil Market?
In a larger sense, the Fed is already intervening in the oil sector via its zero interest rate policy (ZIRP) and its unlimited liquidity for financial speculation.
The problem with financializing a critical sector of the economy is the financialization process transforms it into a systemic risk. The trajectory of every financialized sector is the same: debt and leverage are piled ever higher on a base of collateral that eventually collapses as heightened risk becomes the Monster Id of a crowded trade.
Once the Monster Id burns through the firewalls that were supposed to limit risk, the crowded "safe" trade blows up and the conflagration quickly spreads throughout the financial system.
Every financialized sector thus has the potential to take down the entire financial system.
The mortgage sector is a prime example of this dynamic. The financialization of the mortgage industry created the subprime mortgage firetrap, which inevitably caught fire and threatened to burn down the entire global financial system.
The central bank that encouraged the financialization then has no choice but to intervene to save the system from the toppling dominoes of leverage and risk. Once the mortgage sector was fully financialized--securitized, tranched, packaged into collateralized debt obligations and other derivatives--the implosion of the weakest link (subprime mortgages backed by bogus collateral and liar loans) was baked into the financialization process.
As the systemic dominoes started falling, the Too Big to Fail (TBTF) banks had to be bailed out to the tune of trillions of dollars in guarantees, backstops and loans. As correspondent Mark G. has noted, the debtors are left to suffer the consequences of their risky debt, but the big creditors are saved from the consequences of their bad bets.
This is the essence of moral hazard--risk is disconnected from consequence by central bank intervention. Gains are privatized, losses are socialized, i.e. borne by the taxpayers and savers whose interest has been siphoned to private banks by the central bank.
Now the latest sector to be financialized, oil, has blown up, falling in a parabolic freefall from over $100/barrel to a recent low around $53. And once again, the sector's losses are threatening to undermine sectors with no direct connection to oil.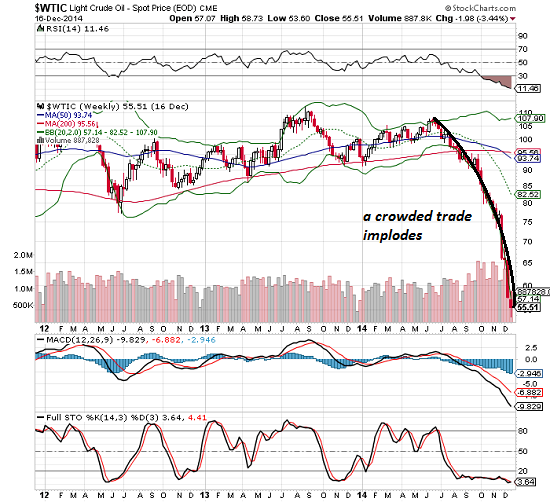 When central banks feign disinterest in intervention, it can be taken as a sign that they're either planning intervention or are already actively intervening via proxies.Central banks play two hands at all times: their propaganda campaign of talking up their intervention ("whatever it takes," etc.) and their sustained opaque interventions via proxies.
When it behooves central banks to appear actively engaged in saving stock and bond markets from melting down, their interventions are publicly flogged on a weekly or even daily basis-- for example, the QE campaigns 1,2 and 3.
When their interventions exceed their mandate for outright manipulation of markets--for example, buying future contracts in the S&P 500 within the last 15 minutes of trading to push the markets into the green--it's all kept far from the public eye, hidden behind proxies.
Given the systemic risks arising from the meltdown of oil, why would the Federal Reserve let this latest implosion spread to the entire over-leveraged system? After six years of continual intervention in financial markets, why would the Fed suddenly cease its labors to keep imploding sectors from destabilizing the rest of the rickety structure?
It beggars belief that the Fed would stand by doing nothing, while the financial dominoes from oil's 50% decline start toppling.
The question isn't, why would the Fed intervene in the oil market? The question is, why wouldn't the Fed intervene in the oil market?
The Fed, via proxies, might buy oil futures contracts to prop up the collateral, and (again through proxies) it might even start buying up impaired high-risk bonds based on oil.
In a larger sense, the Fed is already intervening in the oil sector via its zero interest rate policy (ZIRP) and its unlimited liquidity for financial speculation.Should the Fed turn the dial of intervention up by buying futures and oil-based bonds, it is not a new policy--it is simply a matter of degree. The intervention has been going on in every sector since 2008. The implosion of the oil sector is simply the latest outbreak of consequence following cause.
---
Get a Job, Build a Real Career and Defy a Bewildering Economy(Kindle, $9.95)(print, $20)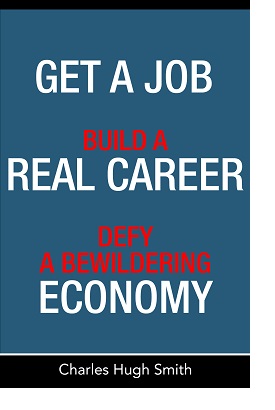 Are you like me? Ever since my first summer job decades ago, I've been chasing financial security. Not win-the-lottery, Bill Gates riches (although it would be nice!), but simply a feeling of financial control. I want my financial worries to if not disappear at least be manageable and comprehensible.
And like most of you, the way I've moved toward my goal has always hinged not just on having a job but a career.
You don't have to be a financial blogger to know that "having a job" and "having a career" do not mean the same thing today as they did when I first started swinging a hammer for a paycheck.
Even the basic concept "getting a job" has changed so radically that jobs--getting and keeping them, and the perceived lack of them--is the number one financial topic among friends, family and for that matter, complete strangers.
So I sat down and wrote this book: Get a Job, Build a Real Career and Defy a Bewildering Economy.
It details everything I've verified about employment and the economy, and lays out an action plan to get you employed.
I am proud of this book. It is the culmination of both my practical work experiences and my financial analysis, and it is a useful, practical, and clarifying read.
Test drive the first section and see for yourself. Kindle, $9.95 print, $20
"I want to thank you for creating your book Get a Job, Build a Real Career and Defy a Bewildering Economy. It is rare to find a person with a mind like yours, who can take a holistic systems view of things without being captured by specific perspectives or agendas. Your contribution to humanity is much appreciated."Laura Y.Gordon Long and I discuss The New Nature of Work: Jobs, Occupations & Careers(25 minutes, YouTube)
---
NOTE: Contributions/subscriptions are acknowledged in the order received. Your name and email remain confidential and will not be given to any other individual, company or agency.
Thank you, J. Timothy B. ($5/month), for your massively generous subscription to this site-- I am greatly honored by your support and readership.
Comments
No comments yet.
Posted
Statistics
Viewed by 16 SocialTraders
No ratings yet
Want to share interesting articles, charts and information you find online? Join the community at Slope of Hope to get started.
Behold the future! Now SocialTrade is available as a virtual reality experience. Check it out by clicking here.